Rob had a hard day. We caught up to him just after sunrise as he began his summit of Cuchara Pass in Colorado. Flanking the winding mountain pass are majestic rock outcroppings, which look like the desiccated backbone of some long-dead behemoth.
Though moved by the beauty of the natural scenery, Rob struggled to maintain his speed and spirit as he gritted up the pass ("This is taking away my cherub-like demeanor," he gasped to us). The oxygen-poor air of the Colorado Rockies, after the desert sand and heat of Arizona, made it difficult for him to breathe.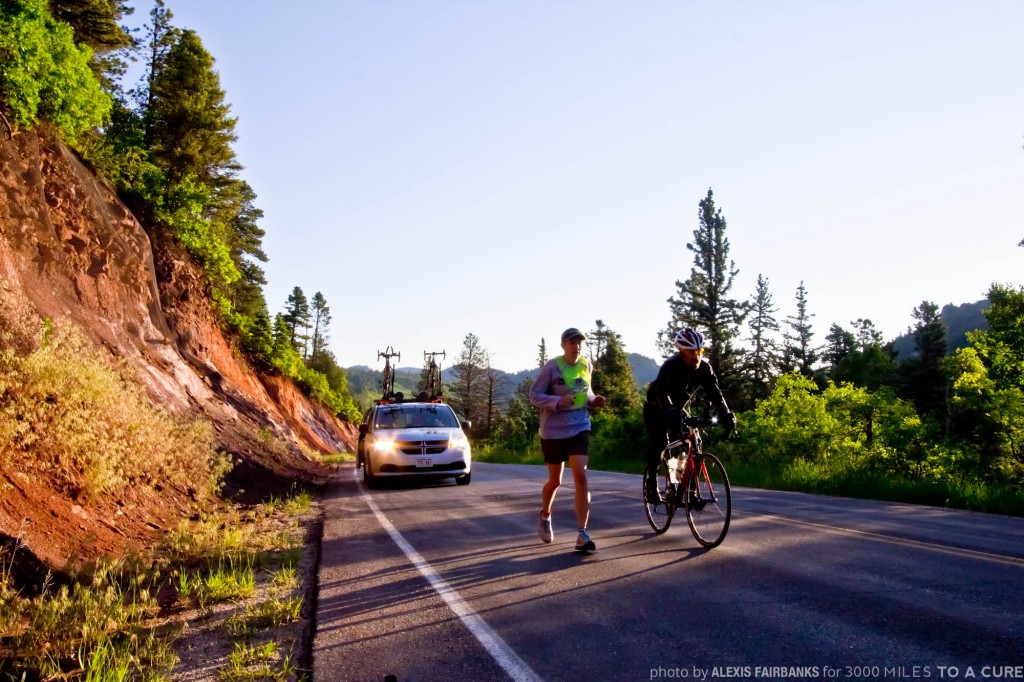 After successfully completing the climb, Rob began a long rolling descent into the city of Trinidad, Colorado–which marks the end of the Rockies and the beginning of the Plains portion of the Race Across America. There, he used an inhaler for his lungs.
He struggled in the farmland of eastern Colorado, too: this time because of the oppressive afternoon heat, worsening chafing and continued lung difficulties (though flat, much of the plains of the state still sit about a mile above sea level).
In the evening, outside of Springfield, Colorado, though, he was met with a nice surprise: A visit from Mike and John Johnston of Minneapolis. Rob and John are close friends, and Mike (John's son) is a brain cancer survivor.
Buoyed by their support–and some treatment for his chafing–Rob went on to have one of his fastest nights in the race, averaging 19 miles per hour between Ulysses to Montezuma, Kansas.
Donate at 3000milestoacure.com (100% of every donation funds brain cancer research) to support Rob as he continues his brutal race across the country.