ABOUT US
#jointhebrainstorm
We believe that we will change the future for people diagnosed with brain cancer. We're passionate about finding a cure, and we embrace every challenge along the way with determination, integrity, and most of all, hope. Our mission is to end brain cancer by raising funds for research and extending an open invitation to unite in hope and action for the cure. We cannot achieve our mission without you.
In October of 2012, Jenny Mulligan was diagnosed with brain cancer and told she would likely live 18 months to two years. Family and friends feverishly looked for treatments for brain cancer and found lots of research showing great promise, however very few of these experimental treatments seemed to make it to human clinical trials because there just wasn't enough funding. The space between academic research and human clinical trials is rightly called "the valley of death."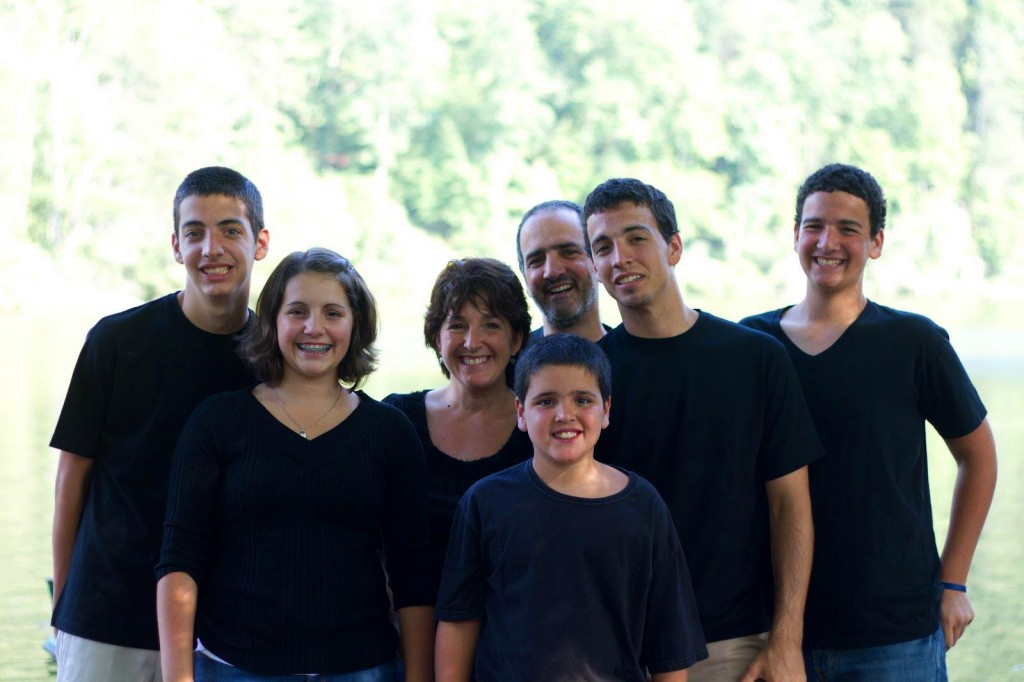 Jenny, her husband and five children.
Jenny's sister, an endurance cyclist with four Ultramarathon World Cycling Association records including the 100 mile, 200 mile, 12 hour and 24 hour had qualified for the famous and grueling Race Across America (RAAM) many times. But it wasn't until Jenny's diagnosis that Maria Parker decided to compete in Race Across America in order to try to make a difference by raising money for brain cancer research. Parker and her team called the effort 3000 Miles to a Cure.
Parker finished the race first among women in 11 days and 18 hours, despite having her follow vehicle totaled and dealing with the daunting physical, mental and emotional challenges of what is widely considered one of the toughest races in the world. Race Across America staff called her race "The Most Inspirational RAAM Story Ever."
During the race itself, Parker and team 3000 Miles to a Cure raised more than $70,000 for brain cancer research…but the real race had just begun.
Brain cancer is one of the deadliest cancers in the world. Within five years of diagnosis, 3 out of every 4 patients will die. Some brain cancers, like glioblastoma multiforme, have a median survival rate of one to two years, even with aggressive chemotherapy and radiation.
This year, an estimated 69,720 cases of primary brain tumors will be diagnosed. Approximately 4,300 children younger than 20 will be diagnosed. Brain cancer is the number two cause of cancer deaths in children.
Brain tumors do not discriminate – the causes of brain tumors are currently unknown. There are no known lifestyle factors that increase your chances of developing brain cancer.
Currently, there are a very limited number of treatments approved by the FDA for use in treating brain tumors.
The team at 3000 Miles to a Cure knows that with proper funding, the outcome for those diagnosed with brain cancer can improve. Susan G. Komen and Team in Training have changed the odds for those with Breast Cancer and Leukemia/Lymphoma. HIV was transformed from a diagnosis of certain death to a chronic disease allowing for a full life. We want to see the same thing occur for brain cancer.
What does your gift fund?
CRACKING THE DEATH CODE:
We are investing in Accelerate Brain Cancer Cure's Precision Medicine Project. Through this project, scientists are mapping the genetic structure of brain tumors so caregivers can customize treatments to a tumor's profile. For example, a drug effective against melanoma could be applied to a genetically similar brain tumor. This project creates a database of brain tumor profiles and treatment efforts to help us identify effective therapies.
GENOME SEQUENCING CAN LEAD TO A CURE:
Genome analysis allows scientists to decrypt the genetic structure of brain tumors.
BRAIN CANCER IS DEADLY:
It will kill an estimated 13,770 Americans this year. Each tumor is different, possessing a unique and volatile genetic code.
EVERY DOLLAR YOU DONATE:
Will cover the cost of analyzing 10 genes. Each genome consists of about 20,000 genes. With enough data, we can crack the code.
TAKE ACTION
We invite you to take action to end brain cancer by giving at your comfort level, joining or supporting one of our events, or by joining our team as a volunteer.
About