Here we are.  At journey's end.
Random quotes from Rob since early this morning—on the phone.
"It's so beautiful."
"I can't explain this."
"This is far beyond my ability.  I'm not even a cyclist."
"God is good all the time.  All the time, God is good."
"Make sure God gets the glory!"
"When I'm done, I want to spend some time with my wife…and then I want to spend some more time with my wife."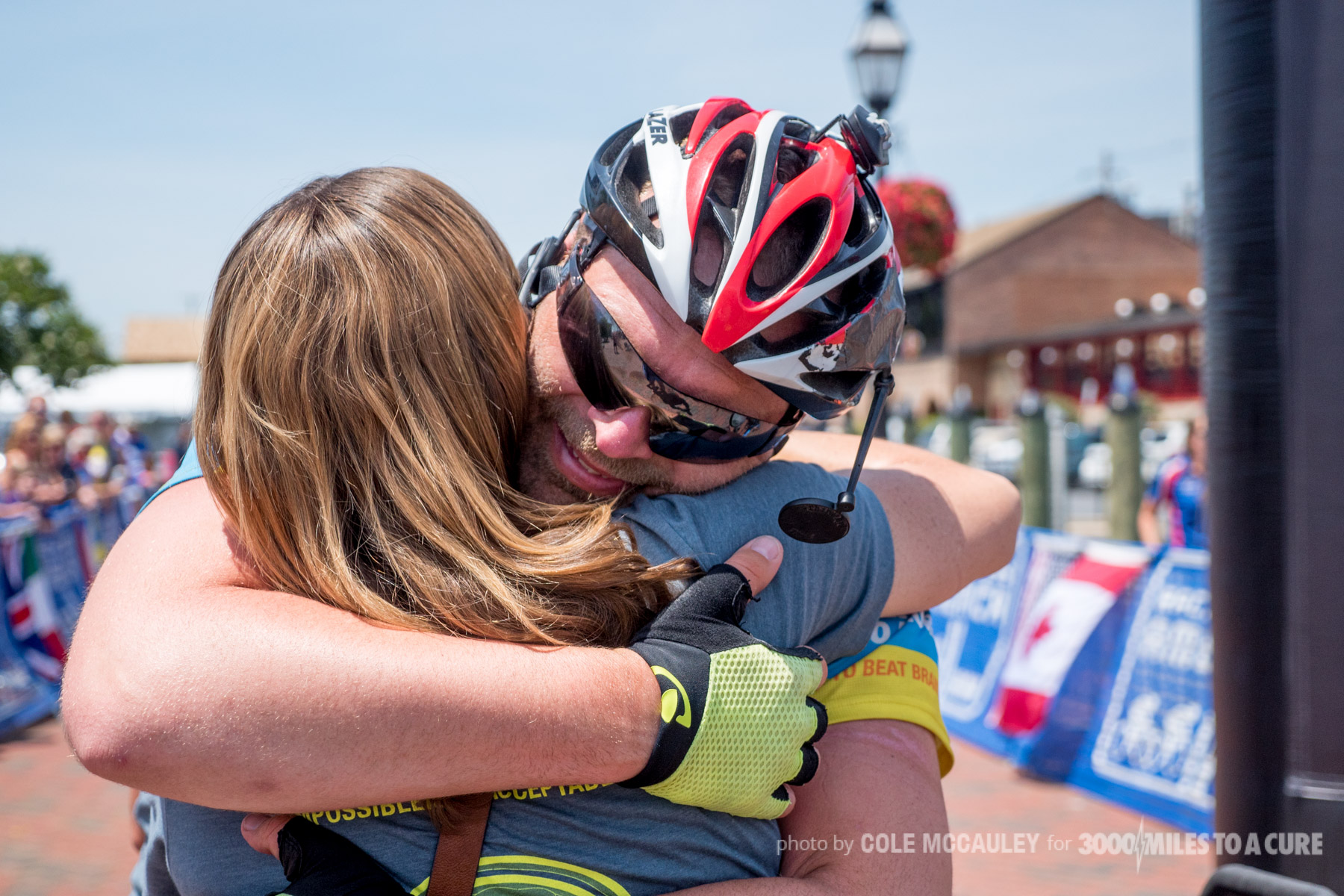 "Pray that I will see the beauty."
At Mt. Airy time station—
"Pray for me, I'm not quite here (mentally)."  I grabbed his face and said, "Focus, Rob, Focus" and then we prayed.  He always wants prayer.
"I am so blessed."
"Can you believe this is the last day?"
"Watch that time."  Said with a twinkle in his eye because he didn't need to be concerned about time anymore.
"Oh, the miracles.  We pray for tailwinds.  We get tailwinds.  We pray for a chiropractor.  We get a chiropractor.  We pray for the coming storms and tornadoes.  We get clear roads and not one drop of rain.  We pray for strength.  Strength is there.  I couldn't do this alone."
And then, the last 50 long miles. Rob said, "This feels like an eternity." He needed prayer to get to the end and finish strong. Next text from his wife, Kristin.  Rob says he feels better and thanks for praying.  He feels at peace.
And we waited our own little eternity at the finish line.  Finally, after many jokes about a last minute nap, or stopping to take a shower, he cruised down the finish—characteristic smile and wave.  We have learned to love and expect Rob's kind gestures to all those around.  He is just that way—through and through.
They say that RAAM peels you back.  When Rob DeCou gets peeled back, there is utter consistency.  Still kind.  Still looking out for everyone else.  Still compassionate.  He told me before RAAM that God has remade him from the inside out.  Well, we have seen the outside and seen the inside and it all brings glory to the One who made him.
Rob was presented his medal.  A proud moment.  He immediately presented it to his niece, Madison who was on crew for Rob.  At the award banquet tonight Rob told me why he gave his precious medal away.  He said, "It's important to give away the things you work hardest for. Otherwise, they can begin to own you. They can become idols."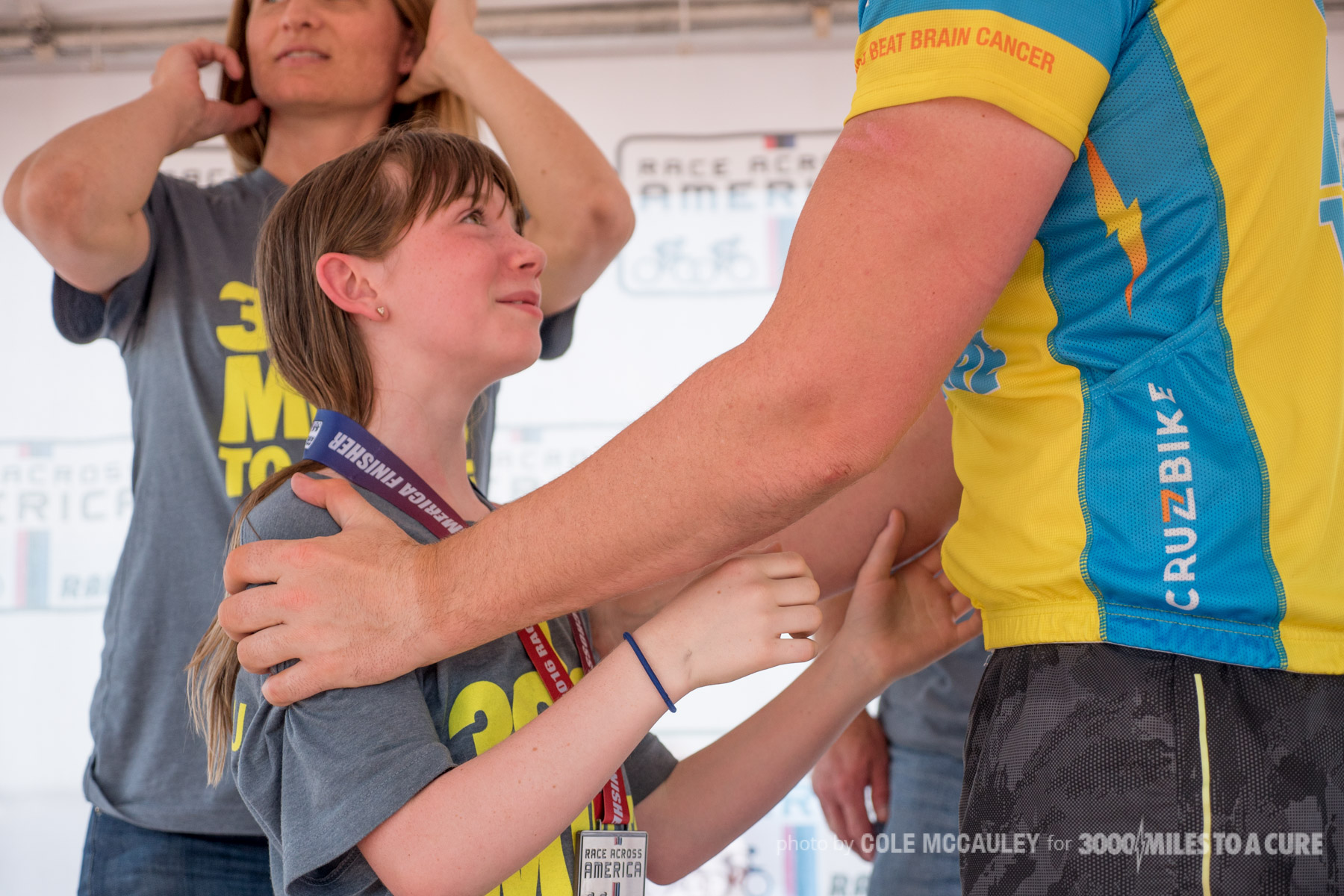 In the midst of all the celebration, Rob asks that you remember to donate to 3000 Miles to a Cure.  He has reached his financial goal but no one will turn down extra. You may donate here.   And please continue to watch and pray for our other rider, Marshall Reeve's.  Some of Rob's crew headed back to see if they could help get Marshall in by his deadline.
After debriefing with the teams, it is time to say goodbye.  It is bittersweet.  You have all become our community.  We go our separate ways, but we are changed.  Sacrifice looks more tangible.  Hard work–well, I'm not sure I knew what it was before this race.  Community has a whole new meaning.  And God walks with us more closely than we dreamed.  Thank you for following on this journey.  Thank you for praying for Rob.  Thank you for donating so generously for 3000 Miles to a Cure.  We are pretty sure Christina is celebrating in heaven–loving the unfolding of this story–really a continuation of her story.  No fear living.  Abundance in the midst of difficulty, and joy no matter what comes.
Back at the start line in Oceanside, Rob's good friend, Joe Chehade, prayed for his start.  Joe just sent me his finish line prayer.  It seems like a perfect closure to this great journey of RAAM.
Thank you, Jesus for accompanying Rob and his crew across the continent.  Thank you for sending your angels and keeping them safe.  Thank you for giving Rob the strength to climb over physical, mental and spiritual mountains:  Like an eagle, he flew by them.  We dare continue to ask you for more graces and miracles:  for Marshall's safe and quick finish.  For Rob's fast healing from his wounds and scars.  For the continued ripple effect of this race and the mission of 3000 Miles to a Cure so that many people get involved in this fight and many, many more get to know You and love You.  For the continued healing of the families of Jenny and Christina—to have the faith that their loved ones are happy with you now.
We love you, we thank you and ask you to use the rest of our lives for Your Glory!   AMEN
Signing off,
Jo Dee Ahmann, The Messenger