On October 11, 2016 Nike Beddow and 17 others crossed the Grand Canyon on foot, in one day. Beginning on the North Rim 9,000 feet above sea level, we took our first steps into the canyon before dawn. Thirteen hours later as the sun set, the last of the team reached the South Rim on Bright Angel Trail. The journey was 23.5 miles and tested us against 10,000 feet of descent and ascent. As we hiked together, we shared our stories, hope and encouragement. Thank you, Nike, for sharing your reflections from the journey.
I crossed the canyon to honor my sister Dana and the many, many other friends who have lost their lives to brain cancer. Dana was my little sister and only sibling. She was diagnosed with an anaplastic astrocytoma at the age of 25. She had recently been married. Doug and Dana loved each other immensely and were determined to live life to the fullest, even after a death sentence. Dana was a gutsy, determined person who would not let brain cancer get in the way of what she wanted to do. The most important thing to her was to have a family. After her initial radiation treatments, Dana stopped taking all her anti-seizure medications and became pregnant. It was a perfect pregnancy and on April 30, 1996, she gave birth to Kati – my beautiful niece! After Kati's birth, Dana felt a renewed sense of purpose and resolve to help others battling brain cancer. It was at that time that she decided to create a 5k run/walk to raise awareness, community support and research dollars for brain cancer patients. May 7, 2017, will be the 20th anniversary of the Race for Hope. In the past 20 years, the race has connected thousands and thousands of families facing this disease, given hope to survivors, and raised over $27 million for research. It is an incredible legacy that Dana leaves behind. She created a ripple effect…survivors and loved ones who have participated in the race have gone on to inspire others to get involved and make a difference.
What were your first few steps into the Canyon on North Kaibab Trail like? How were you feeling? What were you thinking about?
As we descended into the canyon in the predawn darkness, I felt excited to start this unique journey. I didn't think about whether or not I could make it – I had to make it, there was no other scenario. This mindset reminded me of when my sister Dana and I co-founded the Race for Hope DC with our friends Lionel and Sandy Chaiken. We had never created a 5k run/walk before, but it had to be done because it was Dana's wish. It had to raise awareness, it had to raise dollars for brain cancer research. During my Crossing The Canyon trek, I dedicated each mile to a friend of mine who has been impacted by brain cancer. The first mile was dedicated to Pamela Sue Chaiken, Lionel and Sandy's daughter who passed away from brain cancer many years ago.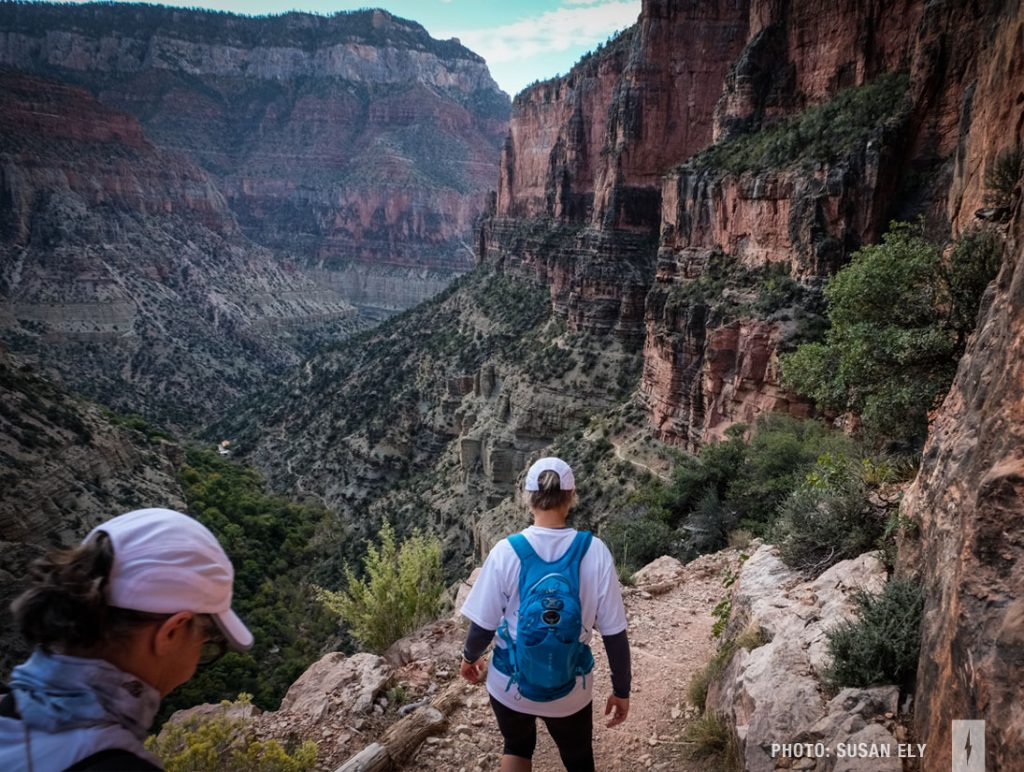 Describe the most difficult part of this experience. How did you get through it?
Once we passed Indian Garden, the final 4.5 miles was probably the most physically challenging part of the trek. Hiking those last few miles with a 3,000 foot elevation gain put us to the test. I got through it thanks to my hiking buddies, Kieran and Rosie. The mutual cursing, laughing and numerous photo ops (which was code for "I have to stop right now and take this picture or I'm going to collapse!") propelled us to the top!
What was it like taking your last few steps out of the Grand Canyon on Bright Angel Trail?
 The last few steps out of the Grand Canyon on the Bright Angel Trail were exhilarating and bittersweet. Thirty years ago, I hiked the Bright Angel Trail with my sister Dana. We were young and carefree and laughed at our lack of preparation for the strenuous hike to Plateau Point and back. Somehow we made it back to the top and promised we would return to the canyon one day. Sadly, that never happened. I miss Dana and wish I could have been on this epic hike with her. I'm sure she was with me in spirit (and she probably made the last few miles harder just to kick my butt!)
What do you think you'll carry with you from Crossing the Canyon 2016?
 I will forever carry street cred that I hiked Rim to Rim of the Grand Canyon! Most importantly, I'll carry with me the conversations I had with my fellow hikers who had lost someone to this hideous disease or who had encountered other struggles in their lives but found hope and healing through this communal experience.